Item Description: Natural Fresh Water Baroque Pearl Flower Stud Earrings in 925 Sterling Silver
Dear Shopper ,

For your shopping pleasure, please remember to subscribe to receive a 10% Discount Code sent to your email address. Just insert the code at the checkout cart each time you shop. To subscribe, scroll down to the bottom of the page and enter your email and contact details. Your email address will never be shared. Should you have any questions or need help, feel free to message us.

Happy Shopping and Best Regards, Schnazoo Admin.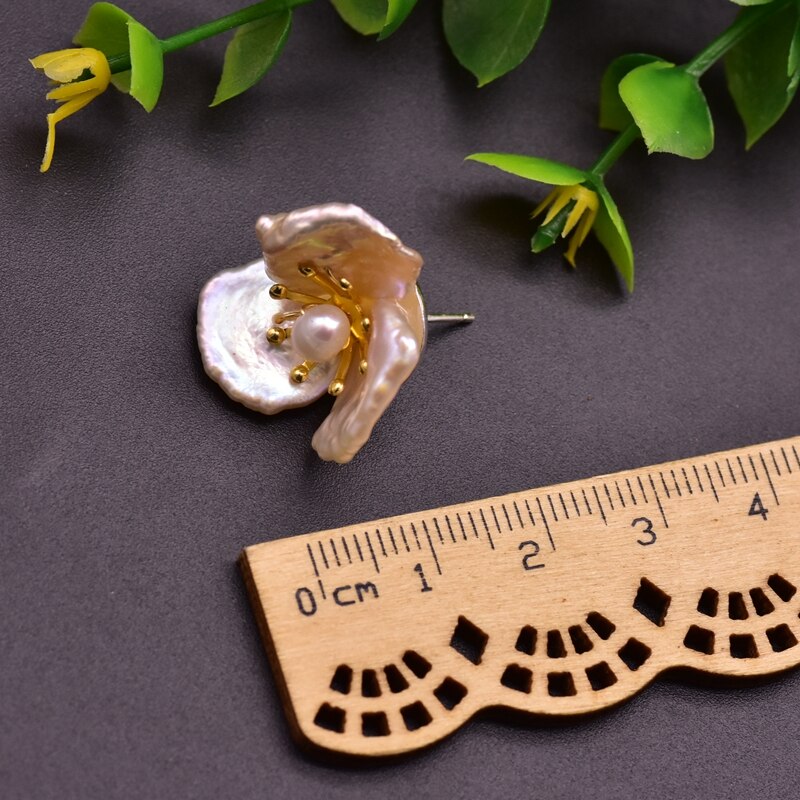 Quality Assurance and Guarantees! About this Item!
| | |
| --- | --- |
| 1. | All pictures are taken in kind. Viewing perception may vary due to lighting and monitor screen. |
| 2. | Each stone is a product of nature and is unique. Size, shape and colour may vary due to natural stone variation and is not a problem of product quality. |
| 3. | All products come with jewelry identification certificate to ensure that every product is 100% Natural Stone and 925 Silver. |
| 4. | All products will be packaged in shockproof packaging for product safety. |
| 5. | All products are delivered via the best delivery service to ensure fastest and safest delivery. We require 2 to 3 days processing time. We provide delivery by E-packet at our cost and Epacket usually delivers within 7 to 21 days. Please select shipping method on check out cart if you wish for special courier services. |
| 6. | Express Services may incur custom clearance taxes on delivery. All taxes are at the expense and responsibility of Buyer. Please pay the taxes if requested. |
7 Days Support Guarantee!
| | |
| --- | --- |
| 1. | If products arrived defective or damaged, please notify us immediately within 3 days of arrival and send us a clear picture of item and packaging for a refund or resend. |
| 2. | If Item have not arrived within the delivery guarantee period, please notify us within 7 days after the completed delivery guarantee period for a refund or resend. |
| 3. | We strive to present the best products and best service to everyone. If there are any questions or issues, please contact us via support. |
Design Inspiration!
Design is inspired by nature and utilizes high quality natural stones which are painstakingly handcrafted using 925 Sterling Silver or K-gold to offer the best in design and quality with the wearer's confidence, beauty and elegance in mind. The Designer's desire in the ultimate pursuit of perfection is making you feel pride and content when you wear our jewelry.
Care of Items! Please read with care!
| | |
| --- | --- |
| 1. | Please take care to store the items carefully in a jewelry box, pinned individually in separate and covered grid to avoid scratch, erosion, deterioration or discolouration and place the box in a cool dry environment away from harsh or direct sunlight. |
| 2. | Please avoid storing with together with cosmetics or food matter or any highly pigmented matter which may discolour or stain the pearls. |
| 3. | Please remove items before shower or bathing or swimming and store in a jewelry box as indicated above. |
| 4. | Please take care not to place with laundry. Detergent or highly acidic substances will damage the pearls. |
| 5. | Please remove before shower or bath or swimming and store in a jewelry box as indicated above. |
| 6. | Please store in places away from any drugs, chemical gases and polluted environments, away from sulfur, insecticides and sprays which may chemical reactions, deterioration, erosion and discoloration in the pearls. |
| 7. | Please remove items before any sporting activities or any activities that will cause high perspiration. Urea and Sweat contains fatty acids and will erode the Pearl. |
| 8. | Pearls scratch easily and should not be kept or stored with other hard items or other jewelry such as diamonds which may scratch the pearls. |
| 9. | Avoid washing in water or detergent. |
| 10. | Pearls are not heat resistant and should not be exposed to high temperatures which may cause dehydration and cracking. |
| 11. | Please take off items before doing any housework and avoid any sort of rough handling. |